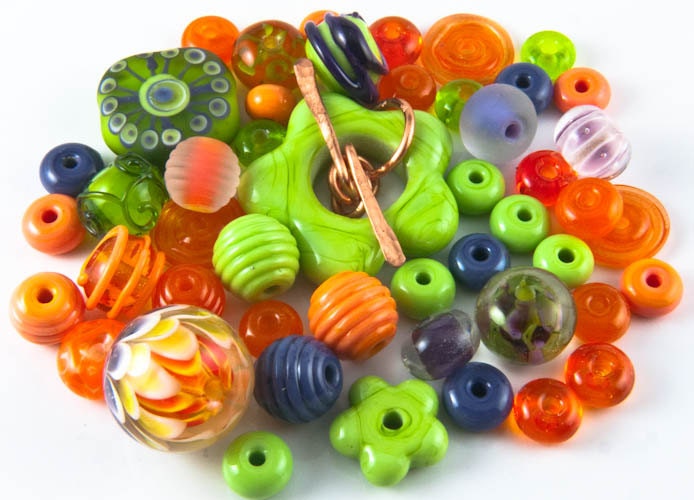 These are the stunning handmade beads I was sent by the Uber talented Linda Newnham of Earthshine Beads. How lucky am I?!! I just love handmade beads and especially lampwork ones! The colors are vibrant and happy. I used just about all of them with another bracelet in the works with linen. Linda deserves credit for this great photo of the Bead Soup too. Thank you so much for being a GREAT BEAD SOUP PARTNER LINDA!! I just wanted to shout that out so she could hear me all the way over on the little island in the United Kingdom where she lives.
A big thank you also to the amazing and tireless Lori Anderson who designed the whole Bead Soup Party.
Now on with the show…….
These are very simple earrings I made with Linda's yummy cream-sickle colored glass beads. They screamed for copper accents and I was happy to oblige!
This bracelet design is one that truly looks better in person then my photos have captured!
I used Linda's stunning handmade glass beads with recycled silk sari as an accent.  A few darling copper-crystal accents and leaf toggle clasp to carry through the garden like theme that the Bead Soup from Linda inspired.
This simple design incorporating Linda's handmade flower toggle with purple suede cord and her stunning beads is just right. I struggled with re-doing it several times because the design is so easy, but when you wear it that is exactly the way I wanted it. I looks cool and sometimes the KISS method is just best!
This is what I made with the stunning focal bead Linda sent me. The focal bead is so beautiful I was afraid I wouldn't do it justice but the tiny sterling silver charm by  Lesley Watt was the perfect accent to set off this focal bead. I added tiny crystals in peridot and tangerine to set off the focal bead too.  I added Linda's spacer beads to the chain with matching seed beads and a flower clasp to tie it all together. It is quite long at 24″ but just perfect to set off a simple T-shirt or blouse with it's fresh Spring and Summer colors.
This is a chunky bracelet I made in the silver metal tones. Sometimes this is what I want to wear in the summer with a simple pair of silver earrings. The turquoise nuggets were quite dear and a great accent to the wonderful lampwork beads!
Hope you enjoyed my Bead Soup! I enjoyed it so much I have a shopping cart full of beads from Linda's store just waiting for the check-out!  There are a lot more to blog hop to so get hoppin'. Thank you for leaving a comment, greatly appreciated!!
Sale in my Etsy shop Tell Your Girlfriends for the Bead Soup Celebration. Enter BeadSoup2013 to recieve 30% off your purchase. Enjoy!